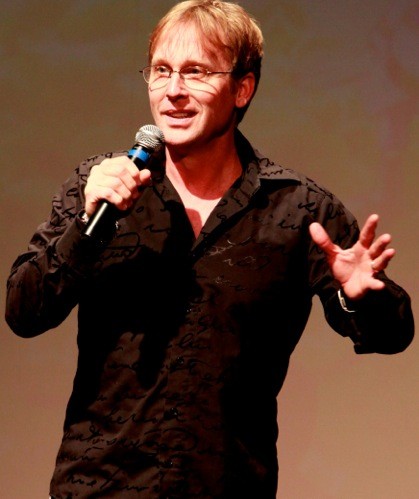 June 20, 2016 (Ocean Grove, NJ) – QSpot LGBT Community Center is proud to announce that Del Shores, award-winning writer, producer, director, best known for the cult film and TV series Sordid Lives, will perform at QSpot's Library Lounge on Thursday, June 23 at 7:30 pm.
Described by the Los Angeles Times as "a master of the Texas comedy,"  and Daily Variety as "the grand master of Southern lowlife sensibilities," Shores wrote and directed the film Sordid Lives in 1999 starring Beau Bridges, Delta Burke, Olivia Newton-John, Bonnie Bedelia, Leslie Jordan and Beth Grant.  The movie won many festival awards including Best Film at the New York Independent Film & Video Festival, Atlanta Gay & Lesbian International Film Festival, Austin Gay & Lesbian International Film Festival, South Beach Film Festival, Memphis International Film Festival and the San Diego International Film Festival.
In 2008, Shores created, wrote, directed and executive produced Sordid Lives: The Series, a television prequel to the film, which premiered on Viacom's LOGO network starring Olivia Newton-John, Rue McClanahan, Leslie Jordan, Beth Grant, and Caroline Rhea. The series became LOGO's biggest hit to date, and was distributed internationally through IMG worldwide in syndication in seventeen countries.
"We're honored to have the incredibly talented Del Shores performing at QSpot," said John Mikytuck, QSpot Executive Director.  "Shores is an LGBT creative icon and pioneer, producing humorous work that addressed serious issues impacting the LGBT community such as homophobia and reparative therapy, years before most people even knew their names."  Using comedy, Shores (and the many talented artists who worked with him) exposed millions around the world to the terrible under-belly of LGBT discrimination and challenged us all to look at it seriously.  "Shores should add LGBT rights advocate to his bio," said Mikytuck.
In addition to Sordid Lives, Shores has written and produced for many shows including Dharma and Greg and the last three seasons of the ground-breaking Showtime series Queer as Folk. He also wrote, directed and produced the Showtime movie The Wilde Girls, starring Olivia Newton-John and Swoosie Kurtz.  Shores has also won or been nominated for GLAAD, NAACP, Ovation, Los Angeles Drama Critics Circle, LA Weekly and Backstage Garland awards for writing, directing and producing. He has Lifetime Achievement awards from LA Weekly and FilmOut San Diego and is the 2013 recipient of The Stanley Kramer Emerging Filmmaker Award
Don't miss the chance to meet an LGBT icon!  Del Shores: SINgularly SORDID, Thursday, June 23, meet/greet reception 6:00 pm, show at 7:30 pm at QSpot LGBT Community Center, 66 S. Main Street, Ocean Grove, NJ. More info www.QSpot.org, 732 455 3373
ABOUT QSPOT
The QSpot LGBT Community Center is one of NJ's largest LGBT safe spaces providing services to the LGBT community without fear, prejudice or discrimination. QSpot features over 2000 sq ft of public and private meeting space along with a coffee-house cafe called the Library Lounge. QSpot's mission is to foster the health, well-being and pride of NJ's LGBT community by providing support, education and referrals. QSpot's programs include individual and group counseling, 12-step meetings, HIV support group, Buddy Program for LGBT Seniors, job resource center, GLOW 50+ social events and we're home to a number of LGBT clubs, including the QSpot Book Club.  QSpot is also home to the QFest NJ LGBT Film & Digital Media Festival, NJ's only LGBT film festival.