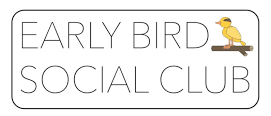 Early Bird Social Club For LGBT 50+
Meets 2nd Sunday Every Month at QSpot 3pm
Please join us, for some or all, of these upcoming EBSC events!
Sun., Sept. 11
BACK BY POPULAR DEMAND!
Wine Tasting
Let's sample a few exciting wines! Snacks will be served. Limited to 20; Admission is $10 (wine & snacks).
Sun., Oct. 9
BACK BY POPULAR DEMAND! Pumpkin Carving
Celebrate Halloween with your own Jack 'O Lantern! Bring a pumpkin, and a suitable cutting utensil.
Sun., Nov. 13
GROUP DISCUSSION
Topic: Grandchildren*
A fun opportunity to share your favorite stories, and show your best photos, with the group!
(*or any kids you love like family)
Sun., Dec. 11
HOLIDAY TRADITION!
Tree Trimming*
'Tis the season! Help us decorate QSpot's tree! Join the fun, catch up with friends, spread good cheer!
(*open to all)
Sun., Jan. 8
TBD
Sun., Feb. 12
GROUP DISCUSSION
Topic: Exes
By chance you meet again (and it's been awhile…). So how did it go? We want to hear all about it!
(Happy Valentine's Day!)
All events: QSpot (3:00-5:00pm)
Hope to see you soon!
EBSC Team
(Eileen, Nick, Michael, Andy, Louise)
***IN PERSON AND ZOOM***
The meeting ID is 582 180 055
You need to also enter a passcode – 082002
The call in number for those that don't want to use computer video is 301-715-8592
For those on computer (tablet, Ipad, smartphone), you can use this URL to connect directly – https://us04web.zoom.us/j/582180055
More info – info@jsqspot.org
Hope we'll see you there!
– Early Bird Team