******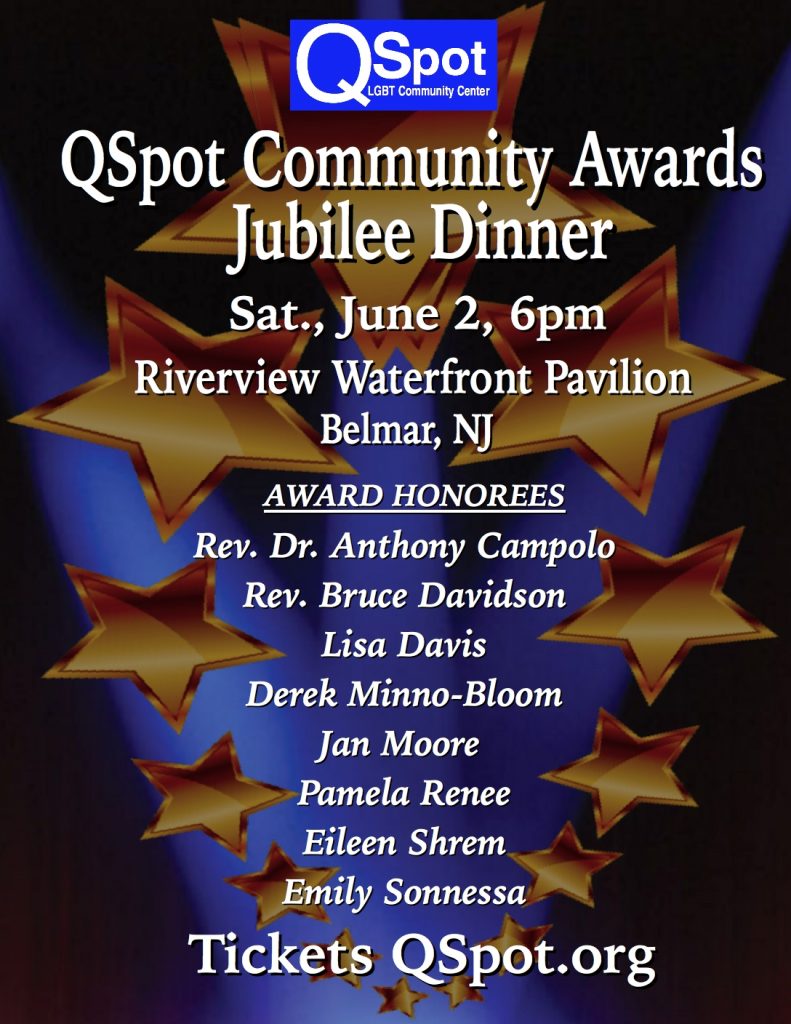 2018 QSpot Community Awards
May 2, 2018 – Ocean Grove, NJ – QSpot LGBT Community Center is proud to announce the 2018 QSpot Community Awards.  QSpot Community Awards recognize extraordinary contributions to the LGBT community and QSpot.  Award recipients this year are being recognized for their dedication, passion, and commitment, some at great sacrifice, to LGBT rights, justice, and care.  Awards will be presented at the QSpot Community Awards Jubilee Dinner on Sat., June 2, 6 pm at the Riverview Waterfront Pavilion, Belmar, NJ.  All proceeds from the event support the QSpot LGBT Community Center's mission to foster the health, well-being and pride of New Jersey's LGBT community.
Recipients of the 2018 QSpot Community Awards (alphabetically): Rev. Dr. Anthony Campolo, Rev. Bruce Davidson, Lisa Davis, Derek Minno-Bloom, Jan Moore, Pamela Renee, Eileen Shrem, and Emily Sonnessa. READ MORE ABOUT EACH HONOREE…
*****
FOR IMMEDIATE RELEASE
QSpot Reaches Agreement with
Jersey Shore Arts Center
March 27, 2018 – Ocean Grove, NJ –  QSpot LGBT Community Center and Jersey Shore Arts Center have come to an agreement to resolve their differences and move forward in a more productive direction.
With this agreement, QSpot looks forward to continuing to serve the needs of the LGBT community at our welcoming center providing vital services and arts and culture programming, including mental health and social support, QFest NJ LGBT Film Festival, and many other important social and community events.
"We want to thank everyone in the LGBT and allied communities who supported us over the last two years," said John Mikytuck, QSpot Executive Director. "We look forward to continuing to serve the needs of the LGBT community and to sharing more good news in the months ahead."
This announcement would not have been possible without the hard work, support and incredible dedication of Mike Long of Lowenstein Sandler LLP and Steven Rosato of DLA Piper LLP.  Additional support came from the Lowenstein Center for the Public Interest.  READ MORE…
*****************
Early Bird Social Club

For LGBT 50+


*****************************