FOR IMMEDIATE RELEASE
QSpot LGBT Community Center to hold Grand Opening Celebration & Dedication Ceremony on May 17
The QSpot LGBT Community Center will hold a grand opening celebration & dedication ceremony of their new facility located at 66 S. Main St., Ocean Grove, NJ on Sunday, May 17, 1-6 pm. The dedication ceremony will take place at 3 pm. The event is free and open to the public. Neptune Committeeman Randy Bishop and Monmouth County Freeholder Lillian Burry will speak at the event.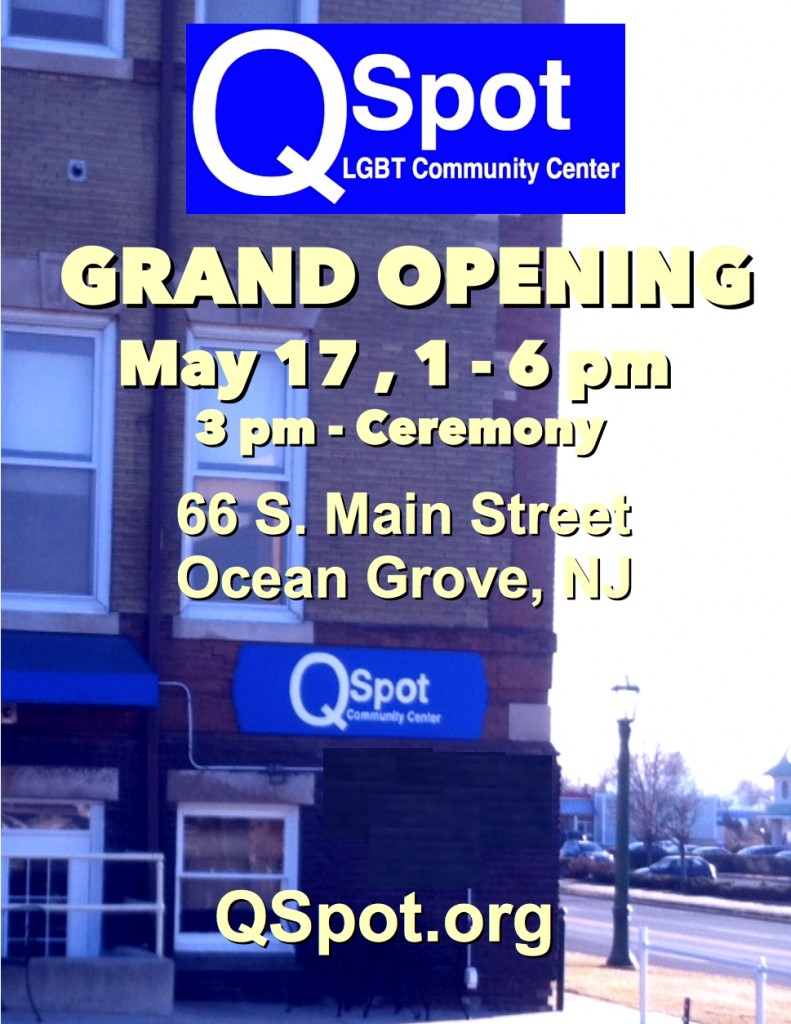 The QSpot LGBT Community Center is one of NJ's largest safe spaces providing services to the LGBT community without fear, prejudice or discrimination. QSpot's new facility features over 1500 sq ft of public and private meeting space along with a coffee-house cafe called the Library Lounge. It is the only facility of its kind in Monmouth County, an area with a large LGBT population. QSpot's mission is to foster the health, well-being and pride of NJ's LGBT community. QSpot provides support, education and referrals to LGBT youth, seniors, and families, along with 12-step meetings, social events, and is home to a number of LGBT clubs.
ABOUT QSPOT
QSpot was founded as a nonprofit corporation on July 1, 2005. Joe D'Andrea, an Asbury Park resident, along with others, established the organization with the goal of opening an LGBT community center where services for residents could be provided. Tragically, within six months of founding the organization, D'Andrea suddenly died. In 2007, MaryAnn Buchanan, a QSpot volunteer and local resident, became Board Chair. Using an all-volunteer, grass roots, community-based model, over the last 8 years QSpot began offering programming to support the LGBT community. On February 7th, 2015, QSpot moved into its new home, a 1500 sq ft facility that is a gathering spot for the LGBT community. A place where individuals, groups and families can come to be social, find support and grow without fear, prejudice or discrimination. On June 1, Buchanan will be retiring and become Board Chair Emeritus.