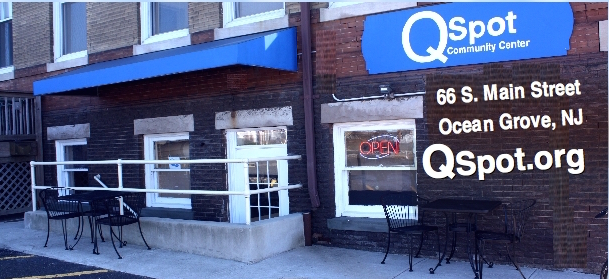 We're thrilled to announce that the QSpot LGBT Community Center has moved into a wonderful new facility. Measuring almost 1700 sq ft., our new location is one of NJ's largest safe spaces for the LGBT community, a unique place, with plenty of free parking, that we're proud to call home.
Although there was little fanfare or notice, the move was a huge milestone for the agency and we're celebrating by holding a grand opening party and dedication ceremony on May 17, 1- 6 pm. The ceremony will begin at 3 pm. Food and drinks will be available.
The exact address is 66 S. Main Street, Ocean Grove, NJ. Its on the corner where the City of Asbury Park meets Ocean Grove, so you might even call it Asbury Grove. Look for our big blue sign hanging above the entrance when you drive by on Rt. 71.
Even better, you don't have to wait until May 17 to visit the New Q (our nickname for the space)! We're holding events already including Hot Topics on April 14, GLOW 50+ Spring Social on April 18, and our first SWEET SPOT BINGO BENEFIT- hosted by drag performer extraordinaire Sybil Bruncheon, on April 25th.
And beginning May 1, the LIBRARY LOUNGE, a coffee house cafe gathering spot, will be officially open on Fridays, Saturdays, and Sundays at 12 pm. Stop in for coffee, food, and free wifi.
It's an exciting time at QSpot and we hope you'll join us on May 17 for the grand opening. To find out more, visit QSpot.org. See you at the New Q!