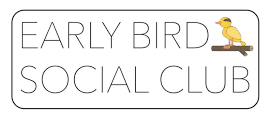 Early Bird Social Club For LGBT 50+
Meets at QSpot 2nd Sunday Each Month 3pm

NOW A VIRTUAL MEETING!!!
(ALL IN-PERSON MEETINGS TEMPORARILY HALTED)
More info – info@jsqspot.org
Nick has volunteered to host a Zoom teleconference/discussion session for the Early Birds on May 10, 2020 from 3-4ish PM.  We can have a casual conversation about how we are coping at home, new works-in-process, and new at-home hobbies. The dress code is simple: wear clothes.
If you've never heard of Zoom, please visit their site,
http://zoom.us
Mtg ID – 846-5439-7499
Password – 649201
Sign up, and download free software for your smartphone, tablet or computer. Only the host for multiple connections (like our gathering) pays for use of the system. Your participation is free. Since Zoom allows video connection please use a device that has a microphone and camera. Most devices have these functions built in.  The first meeting can be a little glitchy, so please be patient as we  attempt to live the "new normal"
We hope to see many of you then,
Eileen Stec
Nick Romei
Michael Victor
Louise Martino
Andy Pawlan