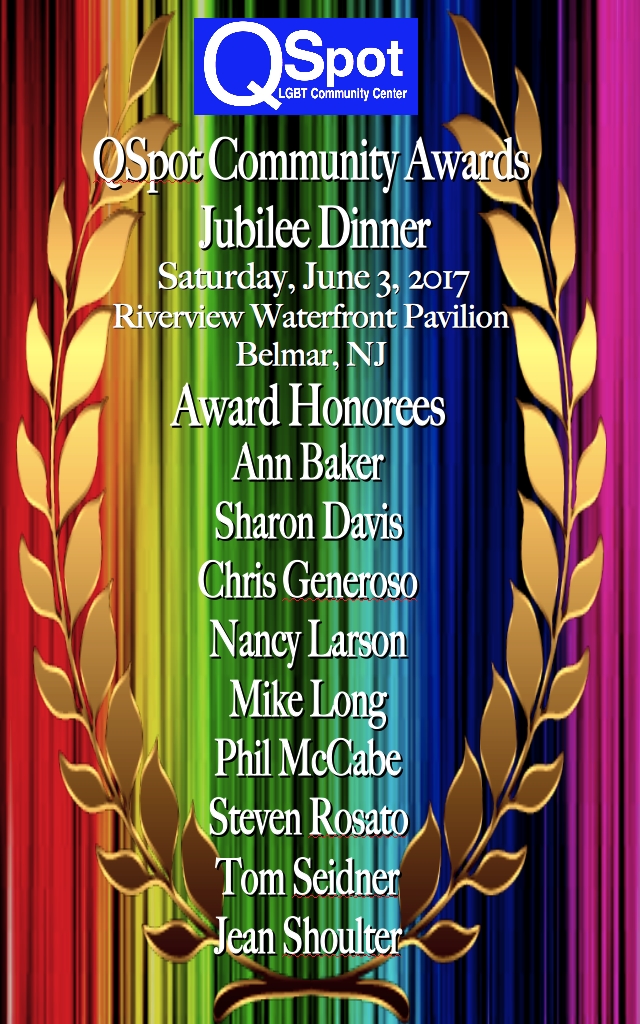 TICKETS
Regular $65
Super Supporter $100
(includes name listed in Event Program Book)
EVENT PROGRAM BOOK
Business Card Ad – $75
Quarter Page Ad (2.5″ x 3.75″) – $100
Half Page Ad (5″ x 3.75″) – $150
(includes one regular ticket)
Full Page Ad (5″ x 7.5″) – $250
(includes two regular tickets)
QSPOT PAYPAL BELOW
Announcing the QSpot Community Awards Honorees
May 4, 2017 – Ocean Grove, NJ – QSpot LGBT Community Center is proud to announce the QSpot Community Awards honorees for 2017. QSpot Community Awards recognize extraordinary contributions to the LGBT community and QSpot. This year's award recipients represent three generations of LGBT advocates, from lawyers to local leaders, each has worked to improve the lives of LGBT people and support QSpot. They stand as symbols of the LGBT community's fight for dignity and equality in New Jersey.
This year's QSpot Community Awards honorees are (in alphabetical order) Ann Baker, Sharon Davis, Chris Generoso, Nancy Larson, Mike Long, Phil McCabe, Tom Seidner, Jean Shoulter, and Steven Rosatto. Read More about each honoree below.
Honorees will be recognized at the QSpot Community Awards Jubilee Dinner,  Saturday, June 3, 6 pm at the Riverview Waterfront Pavilion, Belmar, NJ.
Ann Baker (posthumous award) – Ann was a tireless advocate for women and a longtime social justice activist fighting for the LGBT community.  Read more about Ann Baker below.
Sharon Davis – Extraordinary QSpot volunteer and Neptune community leader. Read more about Sharon Davis below.
Chris Generoso – Former QSpot Board member and dedicated QSpot volunteer and supporter. Read more about Chris Generoso below.
Nancy Larson and Jean Shoulter – Long-standing LGBT community advocates and local Ocean Grove community leaders.  Read more about Nancy Larson and Jean Shoulter below.
Mike Long, Esq, Partner, Lowenstein Sandler, Lowenstein Center for the Public Interest – Advocate attorney representing QSpot against eviction by Jersey Shore Arts Center.  Read more about Mike Long below.
Phil McCabe CSW, CAS, DRCC – National LGBT educator and advocate.  Long-standing NJ LGBT leader.  Read more about Phil McCabe below.
Steven Rosato, Esq, Lowenstein Sandler, Lowenstein Center for the Public Interest – Advocate attorney representing QSpot against eviction by Jersey Shore Arts Center.  Read more about Steven Rosato below.
Tom Seidner – Business leader, lifelong LGBT community advocate and QSpot Supporter.  Read more about Tom Seidner below.
LEARN MORE ABOUT EACH HONOREE
ANN BAKER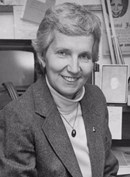 (Excerpted from Asbury Park Press) Born and raised in Salem, Ohio, Ann spent some years in the Sisters of the Humility of Mary congregation and spent some years teaching history in Ohio and New York. After a brief stint in publishing, Ann welcomed the chance for a position as Catholic Campus Minister at The College of NJ (then Trenton State College). Always an advocate for the underdog, Ann had the chance to turn her activism toward women's rights when she created a flourishing environment as director of the campus Women's Center. In 1974 she joined the National Organization for Women of New Jersey (NOW-NJ) where she lobbied for abortion rights and later rose to be on NOW's national reproductive rights committee. In the early 1980's, she developed a non-profit organization that she named the National Center for the Pro-Choice Majority where she made a monumental nationwide impact in support of abortion providers. She collected data nationally on protester activity impeding abortion access, documenting repeat offenders. When this information was shared with police across the country it resulted in greater awareness of systematic patterns of harassment and stiffer penalties for offenders. She also created a greatly valued newsletter for abortion providers, 'The Campaign Report,' which reported anti-abortion activity, keeping providers aware of protestor activity across the country and better able to defend themselves. When mainstream reproductive rights organizations absorbed these groundbreaking efforts during the 1990's, she shifted her advocacy into obtaining relationship rights for same-sex couples in New Jersey, once more breaking new ground—this time for the achievement of marriage equality. Over a long period Ann has been a municipal committeewoman for the Borough of Roosevelt and a determined activist in Monmouth County Democratic politics, attending a number of national conventions. She has supported the development of Monmouth County Democratic Women's Caucus and the LGBT Caucus, as well as strengthening the county Democratic organization presence in Monmouth County's panhandle. Ann and her life partner Carol Watchler supported each other's activism over 43 years together. Ann and Carol rejoiced at the chance to be legally married in July of 2013.  Ann passed away on August 25, 2016. She is survived by her loving partner Carol.
SHARON DAVIS
Sharon Davis began volunteering at QSpot in October 2012, one month after the agency moved into the Jersey Shore Arts Center.  QSpot's space in 2012 had previously been used as a costume closet and measured approximately 200 sq ft. Even so, Sharon helped transform it into a welcoming home, decorating and maintaining it for all to enjoy.  Since then, Sharon has tirelessly volunteered to support QSpot's most important community events, from Hot Topics for Women to Movie Nights, all while ensuring QSpot is open for community members who want to access the center when no one else is available.  Sharon's efforts at QSpot are mirrored by her dedication on other important community committees and boards, including serving as the Neptune Township Planning Board Chair and the Wesley Lake Commission.
CHRIS GENEROSO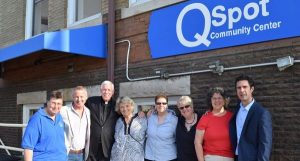 (Pictured far left) Former QSpot Board member, Treasurer, and dedicated QSpot volunteer, Chris was always available when needed.  She enjoyed welcoming all to QSpot, making them feel at home and helping new visitors get comfortable. Chris often stepped forward to assist during important QSpot events, donating and decorating her truck for pride parades, cooking and hosting Christmas dinner, serving as usher, clean up crew, mover, or whatever else was needed to keep QSpot open. Chris was often accompanied in her efforts by her supportive family, including daughter Tammy, son-in-law and son, who donated countless volunteer hours to the agency.
NANCY LARSON and JEAN SHOULTER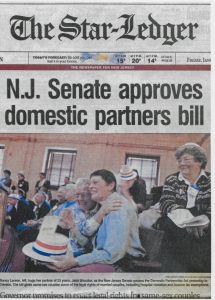 Before coming to NJ, Nancy and Jean organized and ran lesbian weekend retreats and formed lesbian support groups through the MCC church.  They became active in the National Organization Women NJ (NOW-NJ), participating in civil disobedience groups against George H. W. Bush and marching on Washington several times for Pro-Choice, Gay rights, and the "AIDS Quilt."
They worked diligently getting the Domestic Partnership bill through NJ, spending many hours, days, and weeks with the final culmination in Trenton.
They helped pass the transgender bill in NJ by going to see local congressional representatives with Steven Goldstein.  And worked on Civil Unions and Marriage Equality.
Now at 81, they pass the baton to the active LGBT community, making sure the rights we have fought for will continue.
MIKE LONG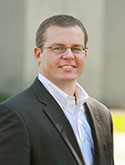 (Excerpted from Lowenstein Sandler) Recognized for his tenacity, creativity, and sound judgment in the courtroom, Mike is a trusted advisor who knows when to negotiate a solution and when to fight. In his white collar practice, Mike conducts internal investigations and handles matters involving allegations of bribery and public corruption, criminal antitrust and international cartel violations, criminal tax evasion, mail and wire fraud, and health care fraud. His practice also includes complex commercial litigation, including civil RICO claims, business divorce matters, and state and federal appeals. He has extensive experience advising clients on campaign finance law, particularly on "pay to play" political contribution restrictions.  Mike is deeply committed to serving the community. He devotes considerable time to pro bono legal services for victims of domestic violence, and is a strong advocate for the reform of the prison, parole, and juvenile justice systems. Prior to joining the firm, Mike served as a judicial law clerk to the Honorable James R. Zazzali of the New Jersey Supreme Court. He graduated Boston College (B.A. , 2000 ), and Seton Hall University School of Law ( J.D. , 2004 ), Summa Cum Laude, Order of the Coif, and served as Senior Articles Editor, Seton Hall Law Review.   He is a member of the  New York and New Jersey Bar Association with Affiliations at the American Bar Association, New Jersey State Bar Association, and New York State Bar Association.  He has been awarded Super Lawyer (2010–2017) – Recognized as a "Rising Star" for white collar criminal defense,  Partners for Women and Justice – 2014 Partners in Justice Award Recipient, and Senior Editor, DiversityIsNatural.com.
PHIL MCCABE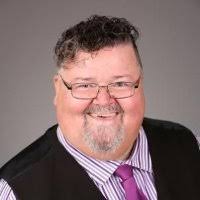 Philip T. McCabe CSW, CAS, CDVC, DRCC is a Certified Social Worker, Nationally Certified Addiction Specialist in the areas of Compulsive Gambling, Alcoholism, Tobacco, Drugs and Sexual Addictions, a Nationally Certified Domestic Violence Counselor and Disaster Response Crisis Counselor. He is a Health Educator Rutgers School Of Public Health, in the Office of Public Health Practice. He is an adjunct instructor for Robert Wood Johnson Medical School, the New Jersey Medical School and the Physician Assistant Program, providing training on Cultural Competency, working with Lesbian Gay, Bisexual and Transgender Individuals. As well as the faculty advisor for Gays, Lesbians and Allies in Medicine (GLAM) a student group dedicated to educating and increasing awareness among fellow students and future healthcare providers about the issues that the lesbian, gay, bisexual, transgender and queer community face. He is also the project director for the NJ Gay Health Initiative.
He has provided public health advocacy and community education within the LGBT communities since 1979 when he participated in the first National March on Washington for Lesbian and Gay Rights. In 1980 as part of Lambda Alliance Inc. Monmouth County's first Lesbian and Gay non-profit association he provided testimony at a Senate investigation Hearing on Sexual Discrimination in the Statues, Marriage and Family Law speaking out on the rights of lesbians and gays to marry, child custody, divorce, job security, health benefits, hospital visitation rights, insurance and tax penalties and other benefits that were denied in our state. He lobbied Congressman Jim Howard (D-NJ) to sign on as a co-sponsor of the first national gay rights bill. He was the 3rd District Coordinator for The Gay Rights National Lobby in the early 80's. GRNL merged with HRC in 1985. At the time Phil stepped back from LGBT politics and began to focus on LGBT health concerns, in response to New Jersey's AIDS epidemic. He became one of the early trainers on providing buddy support for the newly formed Hyacinth Foundation. Phil served as a staff consultant for the Lesbian and Gay Community Services Center NYC. And The National Voices and Faces of Recovery LGBT SpeakOut. Additionally he was the former chairperson of The National Coalition for LGBT Health -Tobacco Work Group on Treatment Issues. Phil holds the position of President of NALGAP: the National Association for Lesbian, Gay, Bisexual and Transgender Addiction Professionals and Their Allies. He contributed to the Center for Substance Abuse Treatment's, "A Provider's Introduction to Substance Abuse Treatment for Lesbian, Gay, Bisexual and Transgender Individuals" as a principal writer on family issues and for the "Healthy People 2010 LGBT Companion Document." SAMSHA/CSAT has designated him as a master trainer for the Addiction Technology Transfer Center, LGBT Curriculum. He along with 9 other national LGBT leaders in 2005 meet for the first time with any US Surgeon General to discuss LGBT health concerns.
In 2008 he was invited to participate in the National Summit on Methamphetamine to Promote Public Health, Partnerships, and Safety for Critically Affected Populations which lead to him developing the NJ Gay Health Initiative as an online resource. He previously served on Board of Trusties of the New Jersey Coalition Against Sexual Assault and also on the Governor's Advisory Council Against Sexual Violence Prevention and Public Education Committee. He was appointed by Gov. Christie to the NJ Board of Social Work Examiners in 2014. He has presented workshops at various local, state and national events and also in the United Kingdom. He is a lifetime resident of Monmouth County who loves the Jersey Shore and the wonderful LGBTQ community that live and play here.
STEVEN ROSATO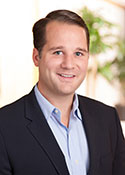 (Excerpted from Lowenstein Sandler) Steven has experience across a wide range of complex securities and corporate governance matters, including federal securities class action and shareholder opt-out lawsuits, appraisal rights litigation, shareholder derivative and fiduciary litigation, and litigation related to residential mortgage-backed securities. He has also represented clients in a variety of other complex commercial litigation matters, ranging from a breach of contract dispute arising out of the defendant's failure to repay several million dollars in promissory notes to litigation on building defects resulting from the defendant's negligence and professional malpractice.  A former summer associate with Lowenstein Sandler, Steven previously served as a law clerk to the Honorable Madeline Cox Arleo in the U.S. District Court for the District of New Jersey. He graduated Seton Hall University School of Law ( J.D. , 2014 ), magna cum laude, Order of the Coif.  He served as Seton Hall Law Review Editor, Vols. 43 & 44.  He received the American Bankruptcy Institute Medal of Excellence Joseph Santosuosso Memorial Real Property Award and Chancellor's Scholarship.  He is a member of the New York and New Jersey Bar Association.
TOM SEIDNER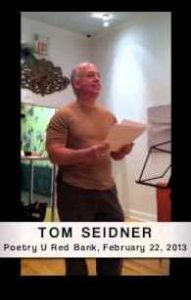 (Abridged Biography) In 1978, when Tom was 26, he started Borealis Bookstore in Ithaca, NY, home of Cornell University.  The basic idea was to have a bookstore filled with books which Tom liked to read along with others in a sitting area in the back of the store. While the science fiction, architecture books and books on Eastern religions each had their own fans, it was the large gay and lesbian section that drew the most attention and would have the biggest impact on Tom's life.
Tom sought every book he uncovered during his own coming out and would order many more for the store, often from just a hint in a review that the book had gay characters or dealt with issues relevant to the new LGBT consciousness being explored in the decade after Stonewall. While many of his customers would take the books to other sections of the store to hide their interest, there was a group from Cornell who were vocal in their appreciation. Tom became involved with the group and traveled to the 1979 National March on Washington for Lesbian and Gay Rights with them. He was so inspired that he volunteered to be the coordinator for the Cornell lesbian and gay speaker's bureau.  Tom was terrified of public speaking, but as many volunteer coordinators for LGBT organizations well know, he had a hard time finding volunteers and would end up being one of two people speaking at almost every event for the next five years. These included freshman dorms, small town rotary clubs, and public rallies.
In 1980, Tom attended a Spiritual Gathering for Radical Faeries led by Harry Hay and others in the Pecos Mountains of Colorado. Tom finally felt like he had found his tribe and was to travel all over the country attending faerie gatherings and hosting them himself for the next fifteen years.
In 1984, a well-meaning white liberal wrote a long article in the Ithaca alternative paper about how accepting the Ithaca community was of gay people and feminist women, but did not treat other minorities with the same regard. Since this was far from the case, Tom and a friend, Ross Haarstad, allowed themselves to be  outed in an article after no one else was willing to do so. The strong reactions to this article, both positive and negative showed how far the liberal college town still had yet to go.
Over the next few months, Tom hosted other gay men and lesbians in his bookstore, and helped write a gay rights ordinance for the town of Ithaca, one of the first in the country.  It was quietly passed by the city council before most people were aware of it. Since many of Tom's role models were feminist, lesbian women, especially poets, Tom started writing and performing his own poetry and became involved with the National Organization of Men Against Sexism. After a particularly successful reading, he was asked to become editor of their journal. While that was fairly short lived, Tom was later to become the poetry editor of RFD, a country journal for gay men everywhere, a post he held for five years.
Tom left Ithaca and moved to San Francisco in 1991, a city he had always loved but found very difficult to afford. In 1993, he moved to Tennessee and lived in two different gay communes, inspired by the Radical Faeries. As he was preparing to move back to San Francisco in 1995, he met the love of his life, a biochemist visiting from Los Alamos, NM, named Marty Riehm. After a tumultuous courtship, the couple made plans to move to San Francisco together, though they were not sure that they could afford to do so. Tom's father, Dr. Leonard Seidner, had started a new business in Marlboro, NJ that year manufacturing bifocal contact lenses and suffered a heart attack in the flurry of starting a business, buying his first house, and marrying his second wife.  Tom and Marty moved to New Jersey to help with the business for what was supposed to be three months. At the time, The LifeStyle Company was in direct competition with large multi-national firms like Bausch and Lomb and Vistakon, a division of Johnson and Johnson, and was not making enough to cover expenses.  After five years years of helping his father, Tom's father retired, leaving Tom as President of the business. After making a series of difficult decisions over several years, Tom was finally able to turn the business around and has now been there for twenty-two years.
Over those years, Tom and Marty helped raise Marty's three sons and became grandparents to two lovely granddaughters, with a third on the way. They also maintained their friendships with many of their Radical Faerie friends, acquired a new circle of friends, largely stemming from a gay potluck group that grows ever more inclusive over time, and the QSpot – in all its incarnations.
The QSpot Book Club, which was previously held at the Point Pleasant Library, was particularly significant for Tom in that it brought back his love of books as well as providing some of the his closest and most meaningful friendships. Tom and Marty were very enthusiastic as they watched QSpot expand over the last several years and have become prominent supporters of QSpot's fight against the Jersey Shore Arts Center during the past year.